Maze - ScreenSaver module for Mac OS X

By David Caldwell
Download Now!
Version 2.6
Mac OS X Universal Binary
Try it for free...
Purchase Registration Code
Description:
Maze.saver is a Mac OS X implementation of the classic maze screen saver seen on various platforms. It works with 32 bit Intel and 64 bit Intel Macs (including Snow Leopard, Lion, and Mountain Lion).
If you have an older PowerPC Macintosh, please use Maze Saver Version 2.2.
Maze is shareware. You may try it before you buy it. If you like it you can purchase a registration code for $5.99.
Take a look at Maze in action: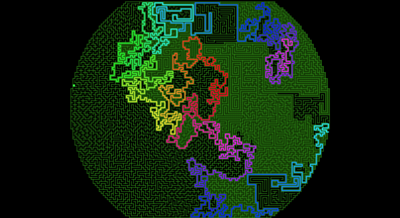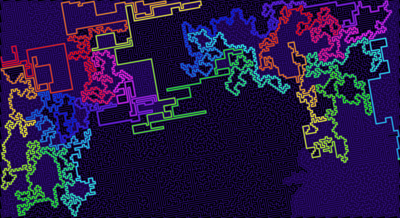 Version History:
2.6 (2016/10/10):
Worked around MacOS 10.11 & 10.12 screensaver bug that caused visual glitches.
2.5.1 (2015/02/22):
Fixed crash/hang when saving prefs in certain conditions.
2.5 (2014/10/27):
Add random maze color option.
2.4 (2013/10/03):
Fix crash on Mavericks (10.9).
Fix crash when there are no preferences set.
2.3.1 (2013/02/06):
Added preview icon for Mountain Lion's System Preferences.
2.3 (2013/02/05):
It now chooses end point across from the start point so there are less annoying short mazes.
Adjusted the "solved line" color so it looks good all the time.
Dropped PowerPC support.
2.2 (2009/11/18):
Made it work with 64 bit 10.6 (Snow Leopard).
Fixed a crash with iPhoto lookups in certain circumstances.
Fixed annoying visual issue when highlighting the solution.
2.1.1 (2006/7/31):
Fixed a crash when there were no iPhoto preferences.
2.1 (2006/7/30):
Made everything look much, much nicer.
Added random maze square sizes.
Made creation and solving times consistent across square sizes.
Picture won't go upside down any more.
Try to keep picture inside maze boundaries.
Fixed two pictures sometimes showing up at once.
Correctly handle renamed iPhoto libraries.
2.0.2 (2006/07/27):
Fixed accidental incompatibility with Mac OS X 10.3.
2.0.1 (2006/07/27):
Fixed bug that caused the prefs save button to not work.
2.0 (2006/07/23):
Universal binary. Works on Intel and PowerPC macs.
Pictures can now be selected using iPhoto albums.
Pictures can now be turned off.
Pictures now have the correct aspect ratio.
Made maze walls look cleaner when maze is not rotated.
1.2 (2002/02/09):
Added pictures.
Added cool shaped mazes.
Added option to control maze "twistiness".
Added option to view maze creation.
Michael Caldwell made an icon for me.
Added new way of solving maze ("Mike Mode").
Fixed default maze wall color.
1.1 (2010/07/21):
Finally got around to updating it for the OS X 10.0 release.
I added the configuration "sheet" (dialog).
Added the maze rotation stuff.
Tweaked maze construction so it's more interesting.
1.0 (2000/10/28):
First Release: (Mac OS X Public Beta Only)